The Irwin Chapel Staff
Once you request the services of Irwin Chapel, we will immediately put our experienced funeral professionals to work for you. A single, dedicated individual will stay in contact with you every step of the way and guide you through the decision-making process. He or she will carefully explain your options, make recommendations at your request, take care of all the small details, and ensure that you and your family's personal touch is always present.
Our Staff:
Irwin Chapel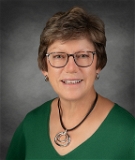 Mary Jean (Zotti) Collett
General Manager
Mary Jean (Zotti) Collett was born and raised in Granite City. She attended St. Margaret Mary Catholic Grade School and graduated in 1977 from Granite City High School. She resides in Collinsville with her daughter Lauren, who recently graduated from SIUE with a degree in Marketing. Her other daughter Josie, is a NICU nurse in St. Louis. Mary enjoys traveling and spending time with her family.

Previous to her dedication with Irwin Chapel, she had been employed at GCS Federal Credit Union for 16 years. She began employment at Irwin Chapel in 1997 as an administrative assistant until 2002 when she accepted the position of General Manager. She takes pride in overseeing the daily operations of the funeral homes and being the liaison between the funeral home staff and Mr. and Mrs. Irwin. Mary's goal is for the families we assist to be taken care of as if they are her own family.
Irwin Chapel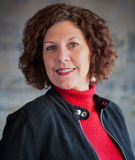 Liz Geisler
Office Manager
liz@irwinchapel.com
Liz (Connolly) Geisler has lived in Granite City for over 50 years. She graduated from GCHS in 1977 and received her associates degree from BAC (now SWIC). She and her husband Darren reside in Granite City. They have a son Lucas of Columbia, MO and a daughter Emily, who lives in Arizona with her husband Andrew.

Liz is a member of Holy Family Catholic Church. She enjoys spending time with family, attending Blues hockey games, playing Bunko with friends and travelling.
She joined Irwin Chapel in 2013 and had previously worked at Katz Media Group as a sales assistant for 33 years.

Liz serves as our office manager in our Glen Carbon chapel and assists with the coordination of our monthly H.O.P.E. widows luncheon.